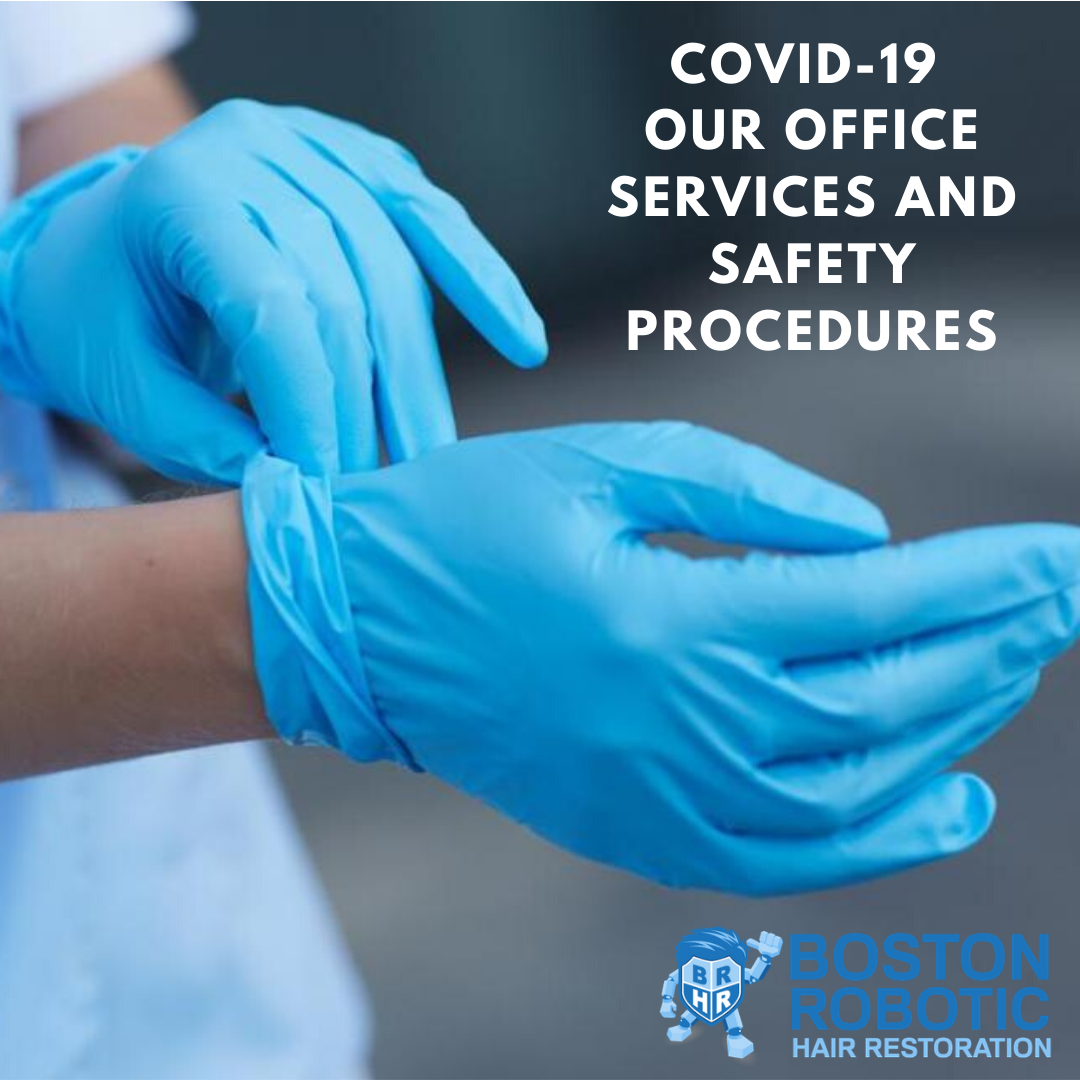 COVID-19 – Our Office Services and Safety Procedures
Dear Patients,
We are accepting limited appointments for in-office consultations, diagnostics, and ARTAS iX FUE procedures, resuming Monday, March 30th, 2020. Limited access means one patient per hour per room so that we maintain social distancing and cleaning protocols. As a medical office, we feel we need to continue providing medical services to support our patients' health goals.
Dr. Lars Boman initiated a self-imposed "office quarantine" March 13th for two weeks, with no history of any coronavirus exposure, travel, any cases occurring at 15 Broad Street, or in this area or our staff residences. No patients have reported coronavirus infection. Should anything change regarding our status, we will act appropriately.
At this time of concern for the safety of both clients and staff, we at Boston Robotic Hair Restoration wish to address any questions regarding the COVID-19 virus and our equipment, including the ARTAS iX robot and equipment, micro-needling and treatments including PRP and Exosomes.
We feel it is important for you to know that the cleaning recommendations are the same for Coronavirus as for all other flu and cold viruses. We have had standing practices before the current pandemic to wipe all contact services with CaviWipes by Metrex, a prevention strategy for the reusable masks, supporting equipment, procedure table, and ergometer. CaviWipes are ideal for operating rooms, surgical centers, neonatal units, medical and dental operatories, and other critical-care areas. In 2 minutes, CaviWipes kill vancomycin-resistant enterococcus faecalis (VRE), staphylococcus aureus with reduced susceptibility to vancomycin, HBV, HCV, HIV-1, Herpes Simplex Virus Types 1 & 2, Influenza A2. In 3 minutes, CaviWipes kill BCG, MRSA, pseudomonas aeruginosa, salmonella enterica, trichophyton mentagrophytes, and staphylococcus aureus. We go well beyond the CDC recommendations, which are "hand-hot soapy water" as the primary mode of Corona prevention recommended by the CDC  http://info.korr.com/e/109422/9-ncov-prepare-prevention html/7tdfzr/208658394h=oghbYpvSw7CDDEOsMkMBEUFbIFOuMjLBZQKmEqo32tc .
Our equipment providers suggest that in addition to their cleaning instructions, Boston Robotic Hair Restoration can utilize CaviWipes by Metrex as described above.
The health and safety of patients, employees and the community at large are our highest priority. Please do not hesitate to contact our doctor if you have any questions or concerns. We will ask essential screening questions of each patient scheduled for office care.