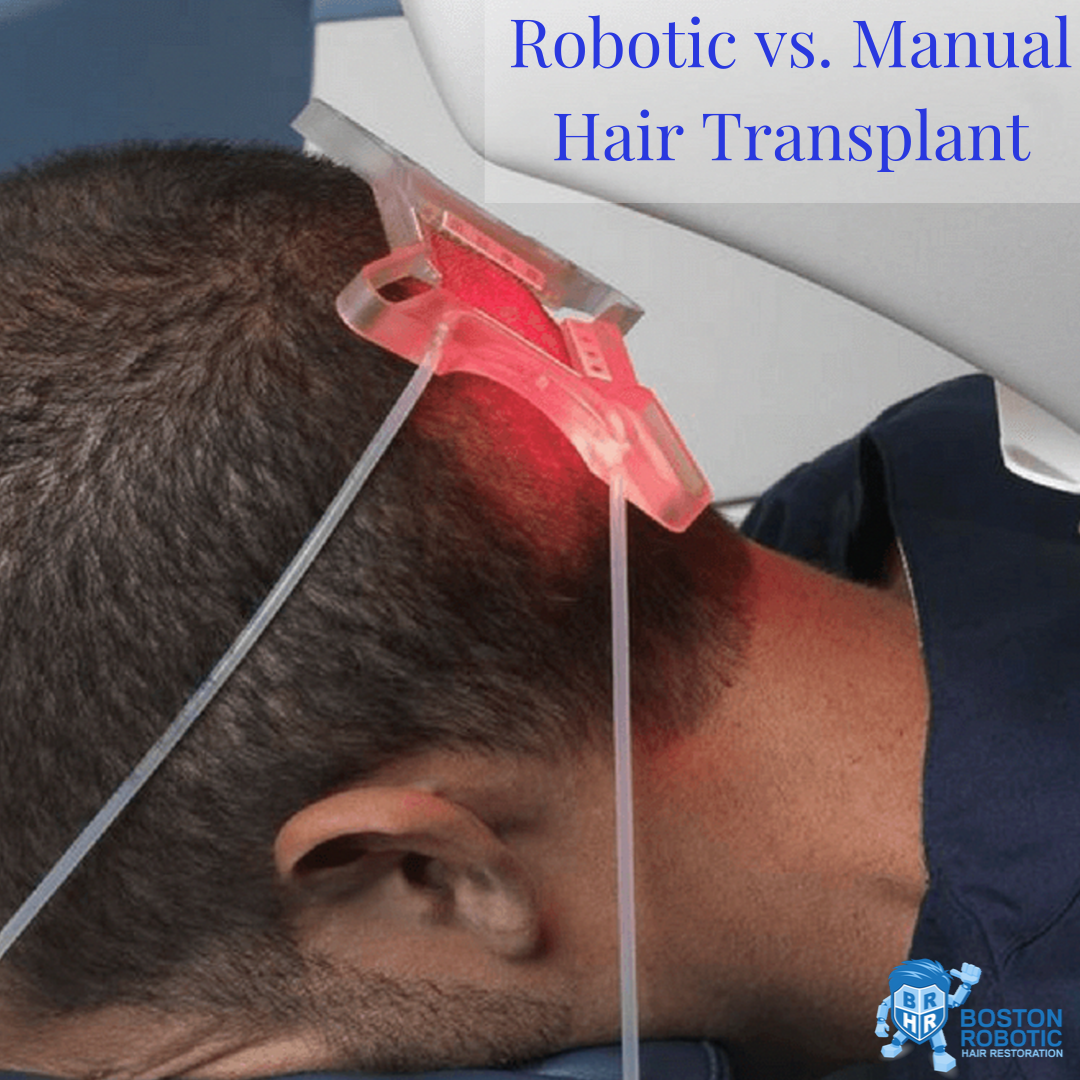 Robotic vs. Manual Hair Transplant
Robotic vs. Manual Hair Transplant
Hair transplant procedures are a popular surgery used today to help solve the hair loss problem millions of men face every day. With the advancements being made in technology, robotic hair restoration has proven to be the new up and coming surgical procedure to help hair loss. Before robotic hair transplant, surgeons conducted a manual hair transplant procedure that they have been doing now for over sixty years. When you come in to book your procedure, you want to make sure you choose the surgery that is right for you. 
We've taken the time to explain the differences between both robotic and manual hair transplant procedure, so read on to find out more about these procedures. 
Robotic Hair Transplant
Pros
The robotic hair transplant is the most advanced hair transplant option available today. The hair transplant used with robotic procedures is the FUE procedure, which is widely thought of as the most effective and painless of hair procedures. The robot is also able to perform a more precise, accurate surgery than a surgeon is capable of with their bare hands. The ARTAS robot is a tool just like any other used during surgery, so an important factor to consider is who's in charge of it. 
Make sure you find a highly experienced doctor and you feel comfortable with. While the surgeon is not conducting the procedure manually, it's important to know that they're still there making sure the robot is following correct procedures and is supervising the entire surgery. 
A robotic restoration also scans your scalp and can find the best areas to extract grafts from for maximum results whereas a manual transplant relies on the doctors choice of extraction areas used with the naked eye. The surgery time is faster than a manual procedure and allows for a fast recovery and minimal swelling of the head. It also only allows for minimal pain and scarring. 
Cons
When robotic hair restoration was first created, it was used for caucasian males with straight dark hair. While advancements have been made throughout the years, it is still heavily targeting this demographic. 
Anyone else who may want to try robotic hair restoration must find someone who is considered an expert conducting the surgery for their personal demographics, which may be difficult. 
Manual Hair Transplant 
Pros
A manual hair transplant surgery features a smaller diameter punch tool, resulting in smaller punctures to the scalp in hopes for less scarring. The procedure results in less trauma to the scalp. A manual procedure has also shown success in extracting hair from the patient's chest, beard, arms, and legs too rather than just their scalp, so extracting from a more dense area is easier. 
Another pro would be that if any problems arise during the surgery, the surgeon can adjust the plan of action in accordance with the problem much easier than dealing with a robot. While hair restoration is usually heavily focused on men simply because they're the ones who usually seek out this form of hair restoration, women are also able to receive a manual hair restoration surgery much easier than robotic.
Cons
A manual hair transplant procedure is done by a trained surgeon's hands instead of a robot, which is much less precise and requires more time. The problem with this would be that the surgery has an average length time of 4 to 8 hours and surgeons could get fatigued during the process which leaves room for error. The manual surgery features a little more discomfort than the robotic procedure, but still manageable. A patient may suffer from swelling of the head for a few days following the procedure. 
Pricing
Most insurance plans don't cover hair transplant procedures so pricing may be a factor you have to consider. Prices will fluctuate depending on the location of the practice, the skill of the surgeon, the type of surgery, and the amount of hair you'll get transplanted. 
When doing a robotic hair restoration, you're not only paying for the surgery, but also the robot used during it so the cost is significantly higher. When it comes to finding a surgeon and a procedure you believe is right for you, it's important not to skimp out on the cost. While it may be more expensive, it will also be more effective in the long run. You don't want to have to get disappointing results because you tried to save some money. Keep in mind, though, that financing the procedure might be an option. Talk to your doctor about this when going in for a consultation. 
Overall both surgeries come with pros and cons so you must research them both and review your options carefully. While robotic surgery can give you more precise and clean results, it comes at a larger cost and is targeted more so at caucasian males with straight dark hair. Manual hair restoration may be the less expensive option, but there's more room for human error during the procedure, which also takes longer than a robotic restoration.
The most important decision to make is to find a surgeon with plenty of experience and knowledge on the surgery you wish to receive. You want someone you feel comfortable with and has also done the surgery plenty of times so you don't turn into a test subject. Both procedures need a surgeon with plenty of training and vast knowledge of the surgery they are conducting, so now it's up to you. 
Boston Robotic Hair Restoration uses the ARTAS iX, the newest ARTAS® Robotic Hair Transplant System, which is the top choice for hair restoration results. Compared to traditional hair plugs and restoration, ARTAS is the only one of its kind. Traditional procedures are often time-consuming, painful, inconsistent, and lack lasting results. ARTAS technology is the only way to receive completely customized treatment with permanent and natural-looking results. Visit us at https://robohairboston.com/ and book your consultation today!
Sources:
https://akclinics.org/blog/robotic-vs-manual-hair-transplant-a-comprehensive-guide/
http://www.hairchoice.eu/manual-vs-robotic-hair-transplant/
https://www.dubaicosmeticsurgery.com/blog/hair-transplant/difference-between-robotic-and-manual-hair-transplant/
https://www.skncosmetics.com/blog/robotic-versus-manual-fue-hair-transplant/