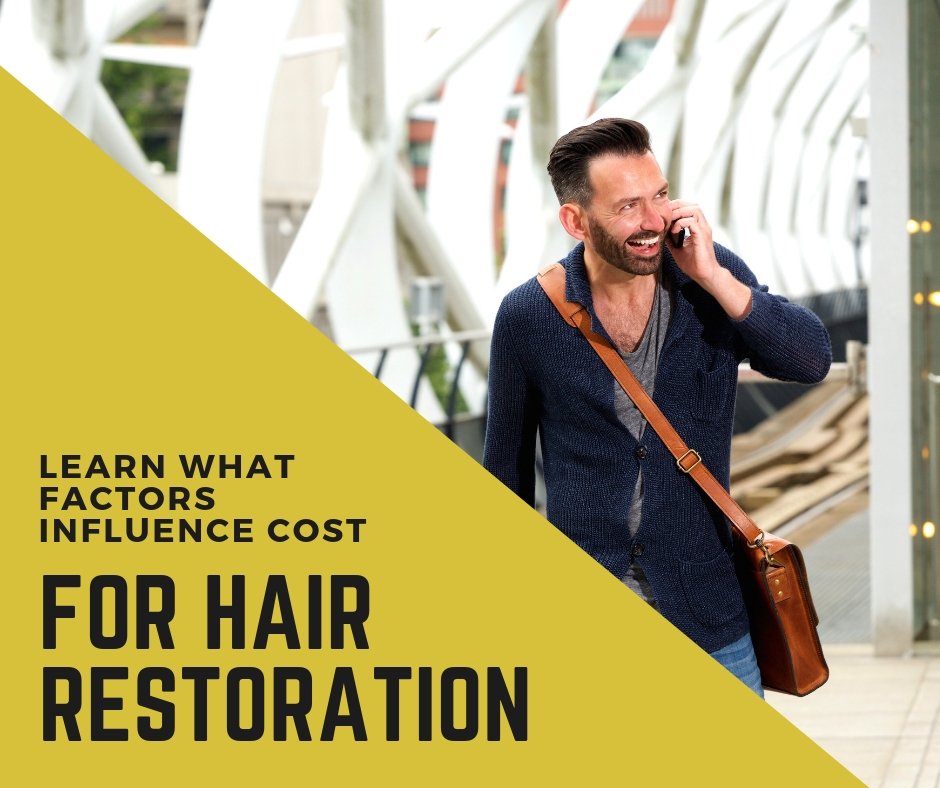 How Much Does a Hair Transplant Cost?
5 Financial Factors of Hair Transplants
Most people assume hair transplants are an expensive endeavor. The truth about the cost of a hair transplant, however, may surprise you. That's why we're bringing you the five, important financial factors to consider.
Did you know a hair transplant procedure might not be the best solution for your hair loss?
Before we break into our 5 financial factors for the cost of hair transplants, let's examine whether this procedure is the right choice for you.
Hair transplants are not an ideal solution for people who…
Don't have enough donor's hair:

People who do not have enough donor sites to remove hair from for a hair transplant.

Have a history of keloid scars:

Keloid scars are overgrown scar tissue which heals by forming outwards on your skin. According to the American Academy of Dermatology, not everyone whose scars will develop keloid scarring. If you have had a history of keloid scarring before, studies suggest there is also a possibility of developing more of these specific scars after an injury.

Receive specific medications: Some medications, like chemotherapy, include hair loss as a side effect. Talk to your doctor about the medications you are taking before financially committing to a hair transplant.
Discuss with your doctor whether a hair restoration procedure is a solution for you. It's time to create a financial plan for your hair transplant.
Here's our list of five, essential financial factors every person seeking a hair transplant procedure must consider. 
The 5 Major Financial Factors of Hair Restoration
1. How Much Hair Do You Need
How much hair are you looking to restore? The amount of hair you need will dramatically change the price. Depending on the type of hair restoration procedure you choose, surgeons will either take hair follicles from a single area or multiple areas your head. The more grafts you require, the more expensive the procedure.
2. Your Surgeon's Reputation
A surgeon's reputation is everything. Surgeons who have experience, or are renowned in the industry for their precision, will often charge more for their services. Surgeons who have achieved star power from tv, social media, or from working with a celebrity, will also charge more for a hair restoration procedure. Be sure to do your research.
3. The Recovery Process
The recovery process is crucial. Some hair restoration procedures, like slit graphs, require the time off work and pain medications. Slit graphs are often reported as a more painful treatment. Slit graphs require a surgeon to use deeper incisions, with a surgical knife, to replace different sections of your hair. Ask your surgeon about the recovery process before making a financial commitment.
4. Your Insurance Company
Hair transplants for both men and women are generally not covered by medical insurance companies. Hair restoration procedures are typically viewed by the medical community as a cosmetic procedure. Talk to your medical provider before creating any hair restoration payment plans.
5. The Type of Procedure
The type of procedure you choose will determine the overall cost of your hair restoration. There are two popular hair restoration procedures, Follicular Unit Extraction (FUE) and Follicular Unit Transplantation (FUT). Both of these treatments require a surgeon to work with a hair graft. A hair graft is typically anywhere from 1 to 4 pieces of hair. Since hairs tend to grow in sections or follicular units, the price of a hair graft will change depending on the procedure you choose.
Follicular Unit Extraction (FUE):

is defined as a surgery in which the surgeon takes singular samples from multiple spots on your head instead of extracting one larger strip of hair. Follicular Unit Extraction is often less painful and does not require time off work.

Follicular Unit Transplantation (FUT):

is defined as a surgery in which a surgeon takes a larger section, or strip of skin, using a surgeon knife. The strip is often extracted from the back of your head and then replaced onto the recipient area of your hairline.
You've discussed hair restoration with your doctor. You've developed a financial plan for your future.
The next step of your journey, to a fuller head of hair, is to decide which procedure is the best solution for restoring your natural hair.
ARTAS Robotic Hair Restoration is an FDA approved, follicular unit extraction hair restoration procedure.
The ARTAS iX machine is an advanced, robotic machine which uses artificial intelligence to calculate the natural shape of your hairline. With our advanced technology, a surgeon is able to use our ARTAS iX machine to extract singular units of hair follicles from your head. ARTAS iX replants your hair follicles for fast hair results, without the possibility of human error.
ARTAS Robotic Hair Restoration is a painless procedure which does not leave you with embarrassing scars. Our patients are able to return to work the next day without any pain medication. Boston Robotic Hair Restoration is New England's first ARTAS iX machine. With our advanced robotic technology, we are able to give our patients real hair restoration results in less than six months.
What are you waiting for?
Our consultations are free and our procedure is painless.
We are currently running 40% off all procedures now until the end of April. 
Visit Our Contact Us Page to set up a free consultation.
We hope we see you soon at the Boston Robotic Hair Restoration.